Serendipitous Inspiration!
Mar 25, 2019
By Leslie Chandler
Have you ever had one of those unexpected and unplanned moments that catch you off-guard with their brilliant potential? A few weeks ago, I did. And I decided it was so much fun that I just HAD to run with it! So, what is it?
Well, let me backtrack a little to set the stage. My daughter, pregnant with daughter #2 and in another nesting/designing mode, had a photo of a meadow that she fell in love with. Knowing that I am always available for another artistic adventure, she mused "One day that could be the start of a beautiful painting." My ears perked up immediately and I asked her where she would hang it. I followed her gaze to a large, blank wall in her dining room and right there and then I knew it wouldn't stay blank for much longer.
Then, at that moment, she said it.
"I'd like to paint it but I have no idea where to start."
An idea was starting to germinate. I spoke before I realized what I said (those who know me would understand this) and suggested we could paint the same canvas together. I would literally show her what to do, teaching her techniques and demonstrating artistic tips and tricks, while we work on one painting with our two brushes. We were excited! So, we compared our calendars and decided to share one very enjoyable day in my studio — creating a large landscape painting together.
How many times have I heard my friends and acquaintances say the same thing? "If only I could paint like that" — or "I could never paint that well!" And, "I wish I had that kind of talent but I can't even draw a straight line!" Admittedly, while paint nights are popular and fun social events, forgive me for saying that they don't really allow people to bring home artwork that ends up in a cherished space in their home for years to come. The trick, it would seem, would be to combine the best of both ideas: paint for fun, but with guidance and more purpose, to develop hidden or latent artistic talents and create original artwork to truly hang with pride.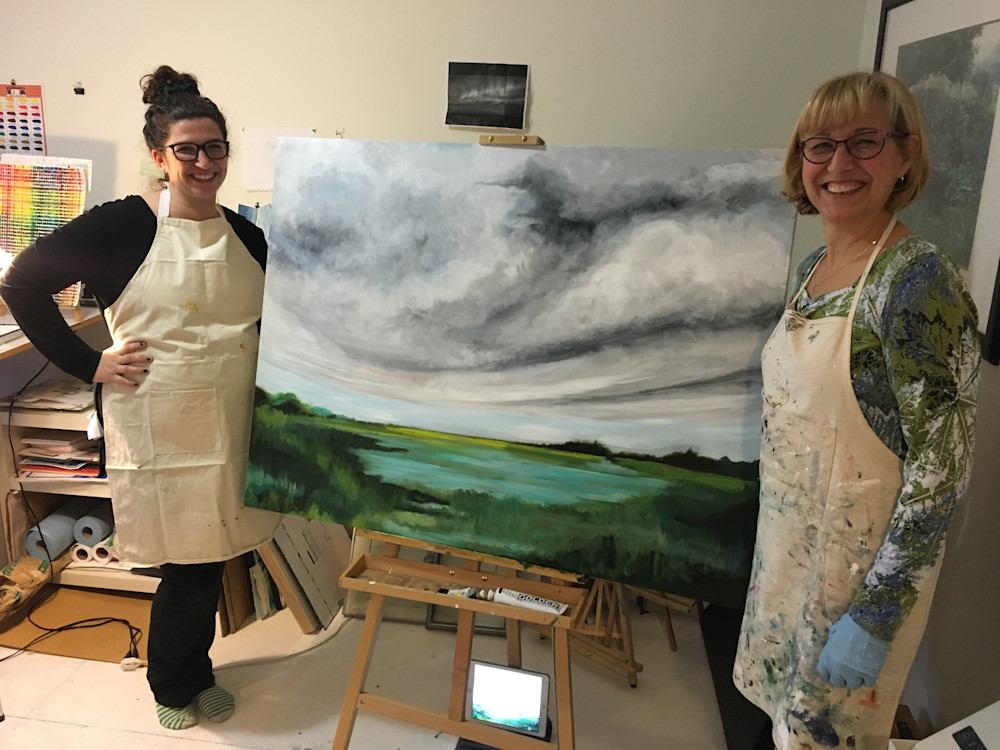 And so ArtpARTner.ca was born!
My daughter and I had a blast together, and by the end of the day — just one day! — she had a sizeable original collaborative acrylic painting on canvas that really looks fantastic on her dining room wall. She is proud of her painting, and has gained skills and confidence to apply to more paintings... maybe while she is on her maternity leave and her little girls are napping.
To my absolute delight I already have a few more sessions booked. How does this process work? After chatting on the phone with new clients, our thoughts turn to colours that make them happy and that would enhance their home decor. I hear about places that they love and scenes they admire. Some who are interested have said they have photos they have kept for years and would Iike to recreate them in a meaningful way. Others have spoken of beaches and holiday landscapes that remind them of times gone by, but have no photos, just happy memories. Or, there is a certain style of painting they would like to try. Still others have noted that their garden is their little slice of heaven and they would love a painting of it on their wall. In this way, each session is personally meaningful and, unlike paint nights, won't be a subject recommended by a stranger.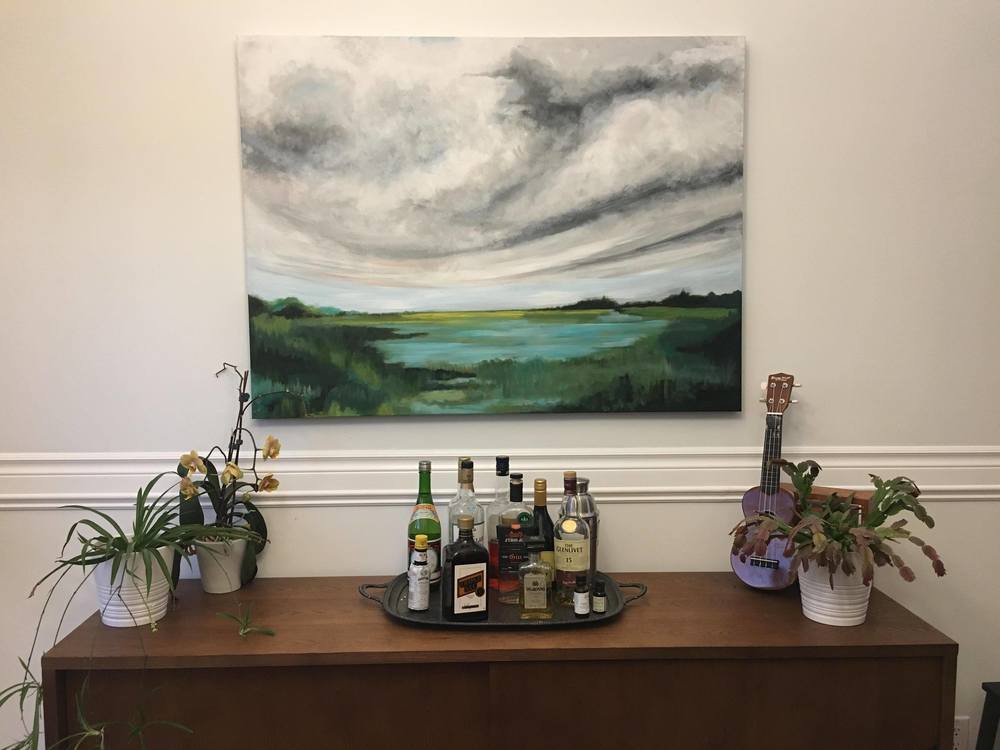 How very exciting! I am really looking forward to having more days like this with old and new friends! If you live anywhere near Ottawa and are curious to learn more and have some fun, I would love to have a chat with you! Why not let me be your ArtpARTner?