Finding Your Hygge
Aug 22, 2020
Recently, I stumbled across a BBC show and I can't resist giving it a heartfelt plug: it's called "Home Is Where the Art Is" and if you are reading this blog, I bet you would enjoy their episodes on YouTube!
I fell in love with this program immediately. Basically, the premise is that in mainstream UK culture, many people desire to embellish their home with personalized art. The program introduces a potential buyer (or buyers) to three talented artists who each use vastly different mediums. Each artist is also given a cheeky chance to snoop around the client's home, to get a feel for what their tastes are. Then, based on the artists' pitch to the prospective client(s), two artists are chosen to create a work of art that uniquely meets the prospectus. When the final artworks are presented, one (or, in some cases, both) artwork is chosen for the client's home. The entire experience is infused with thoughtfulness and heart, it is emotional, uniquely personal, immensely gratifying and it is everything that commissioned art should be.
But this isn't necessarily a typical North American experience.
I live in Canada's beautiful capital city, Ottawa. Here, we have world-class museums, the National Arts Centre, an incredibly vibrant and diverse cosmopolitan culture and, of course, many magnificent art galleries including the National Gallery of Canada. Our Parliament Buildings are surrounded by majestic life-size bronze statues, our War Memorial is a gorgeous and profound work of art that never fails to cause emotion to well up inside me, and even our local architecture has its own fascinating story to tell. Art surrounds me.
And yet, even with all this, as an artist I wonder if most of us here are still missing out. Perhaps we just don't see the forest for the trees. Or maybe, because I am an artist, I am more apt to notice that there exists a vague "nonchalantness" about how personal art pieces can enhance the home. Do we even realize the opportunity we are missing?
Don't get me wrong: I am not talking about decorative items that we can purchase after spending five minutes in HomeSense. Such trendy decor pieces may temporarily enhance a home's style, but they are impersonal, rapidly mass-produced, lose value over time and do not add soul to a home. They have no hygge.
What exactly is hygge? Wikipedia defines this Danish term as "a quality of coziness and comfortable conviviality that engenders a feeling of contentment or well-being." We in North America don't even have a word that defines this quality yet.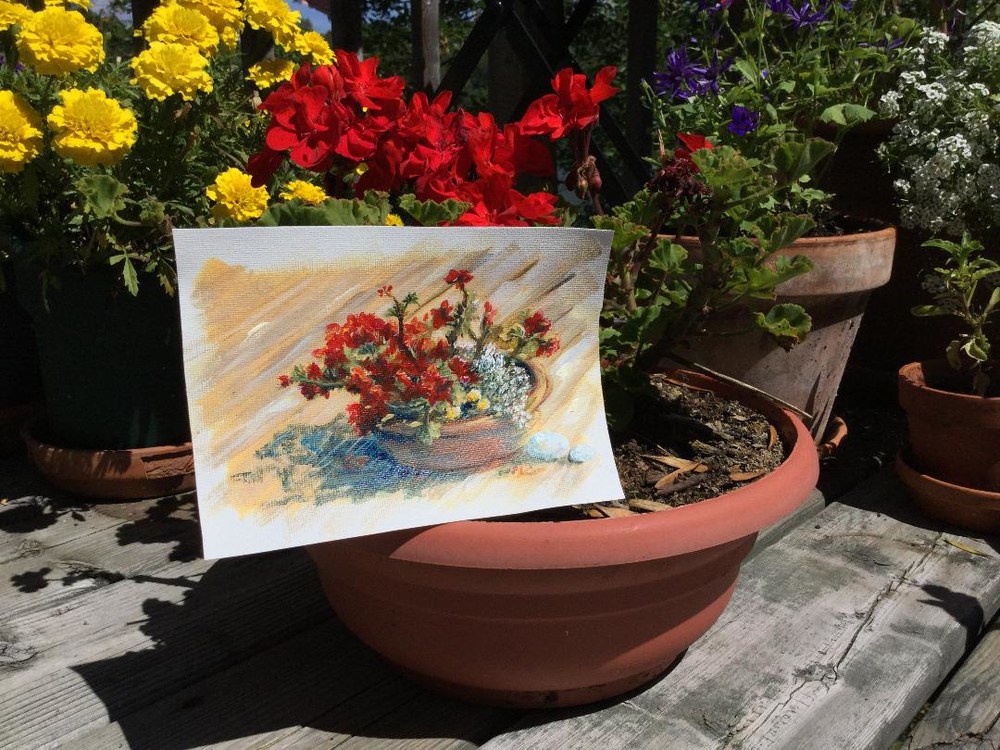 I guess we should ask ourselves, what is it about our home (other than the people in it) that gives us hygge? For some of us, it may be meaningful photographs that commemorate pivotal life events or that item that used to belong to a forebear that you would never consider selling. It may be the beloved childhood toy someone made just for you that you still treasure. Perhaps it is a hand sewn quilt made by a grandparent that you can wrap yourself up in when you really miss them.
In fact, we could even argue that such items are more about the loving memories and emotions they stir up in us, because they ground us with a sense of who we really are: where we came from and where we will yet go. To commission artwork has a similar impact for the buyer who recognizes it is an invaluable experience worth having. In fact, many people who commission one piece enjoy it so much that they will decide to repeat the experience with another one.
So then, why did "Home Is Where the Art Is" stir something in me? I realized that these people love owning art that profoundly communicates something meaningful to them. They recognize the value that a commissioned art piece adds to the hygge in their home.
More than that, they also seem to actively promote and value work by emerging artists, such as in the program I mentioned earlier. They understand that spending a reasonable sum to commission an artist who will pour their time, heart, and talent into creating beautifully personalized artwork with just them in mind is worth it and immensely desirable.
Art is all around us, but so are the artists. If you are already the proud owner of an original, commissioned artwork, my hat's off to you! If, however, you have been considering commissioning a painting but haven't yet taken the plunge, then this is the nudge you've been waiting for!
Nowadays when we are all spending more time at home than previously, maybe this is the ideal opportunity to commission some artful hygge for our own home. Carpe diem!