Favourite Places
Feb 17, 2018
By Leslie Chandler
When I was a kid, summer holidays meant one thing to me: fishing for trout and camping at Glimpse Lake in the British Columbia interior.
I loved the freedom to wander all over the fishing camp: counting all the different types of bird nests, playing outdoor bowling with my brother on a rickety old wooden bowling lane, catching tiny frogs and massive bullfrogs, leaning across the railing along the bridge over the creek to watch all the red-bellied trout spawn and fishing by myself in a rowboat in the middle of the lake. Dad said that if I was old enough to go fishing by myself that I was old enough to clean my own catch. At first, I balked, but eventually being able to do this was another step in being independent. Oh heaven!
But the thing I loved most of all was the night sky above the campfire.
Stars! Gazillions of them, and never was the Milky Way so glorious as it was there! Yet there was one night when even the Milky Way seemed to pale: it was the night I first experienced the Northern Lights.
A few days earlier, just as the aspens were beginning to turn golden, Dad had announced that we were going on one last fishing trip before it got too cold, and so we packed up our old Volvo and drove past Hope toward the mountains, hugging the edge of the winding highway as we watched the Fraser River plunge through the rapids below us and holding our breath through all the old tunnels like Boston Bar. Then, as we finally approached the lake, Dad would invariably ask "Who's going to catch the first glimpse of Glimpse?" And when we did, it was like entering another world. It was quite simply my favourite place.
There was nothing quite as satisfying as climbing into our old canvas tent and snuggling into a cozy sleeping bag, only to fall asleep listening to the fire crackling, frogs and crickets singing and hearing an occasional loon. I was just drifting off to blissful sleep when the tent flap opened and a gust of cool, damp air rushed in. "Get your jackets on, kids, and come outside right now!" Mom's voice sounded urgent, so we dutifully followed her out of the tent. I distinctly remember how she pointed across the lake and there we all watched, transfixed, the sky dance in shades of green and red.
At first, I was frightened because I had no idea what they were! I had never heard of the Northern Lights before! Mom explained that when she was a little girl growing up on a farm just south of Riding Mountain Park in Manitoba, they often saw the Aurora Borealis. Just imagine catching your first glimpse of something so beautiful in your favourite place with the people you loved more than anything else in the world.
I was hooked.
Since then, I routinely scan the night sky: as the sun sets, I glance across the fields towards the north and when we are camping, I always search the horizon...Even when I am home, I am drawn to looking at the Aurora oval on various online maps. (Will it dip far enough south tonight?) I cannot seem to help admiring the incredible Aurora Borealis photos posted in some groups by people who are so blessed to see them just by casually stepping outside their back door!
It was quite not by accident, then, that I posted on a FaceBook group called "Aurora Borealis Notifications." As an artist whose current opportunities to travel to areas not affected by light pollution are limited, I decided I needed some awe-inspiring images, so I typed out a request for permission to use photographs taken by others as sources for my paintings. I was incredibly encouraged by the response, and there were several photos offered that really grabbed my interest.
One of these was taken by a talented photographer named Andy Witteman. As we began our correspondence, it became apparent that his Northern Lights photo was taken not all that far from my favourite place as a child, in the BC interior near Helena Lake! He was so generous in sharing the fascinating story behind his photo. Apparently, during the terrible forest fire season in the summer of 2017, the fire came shockingly close to where he was living, about half-way up the road to his home, but fortunately turned back on itself just in the nick of time. His photo was taken a mere couple of weeks before that event and marked one of his favourite lakeside evenings. I am reminded how quickly things can turn to disaster and how, especially, we should not take any moment, or place, or people for granted.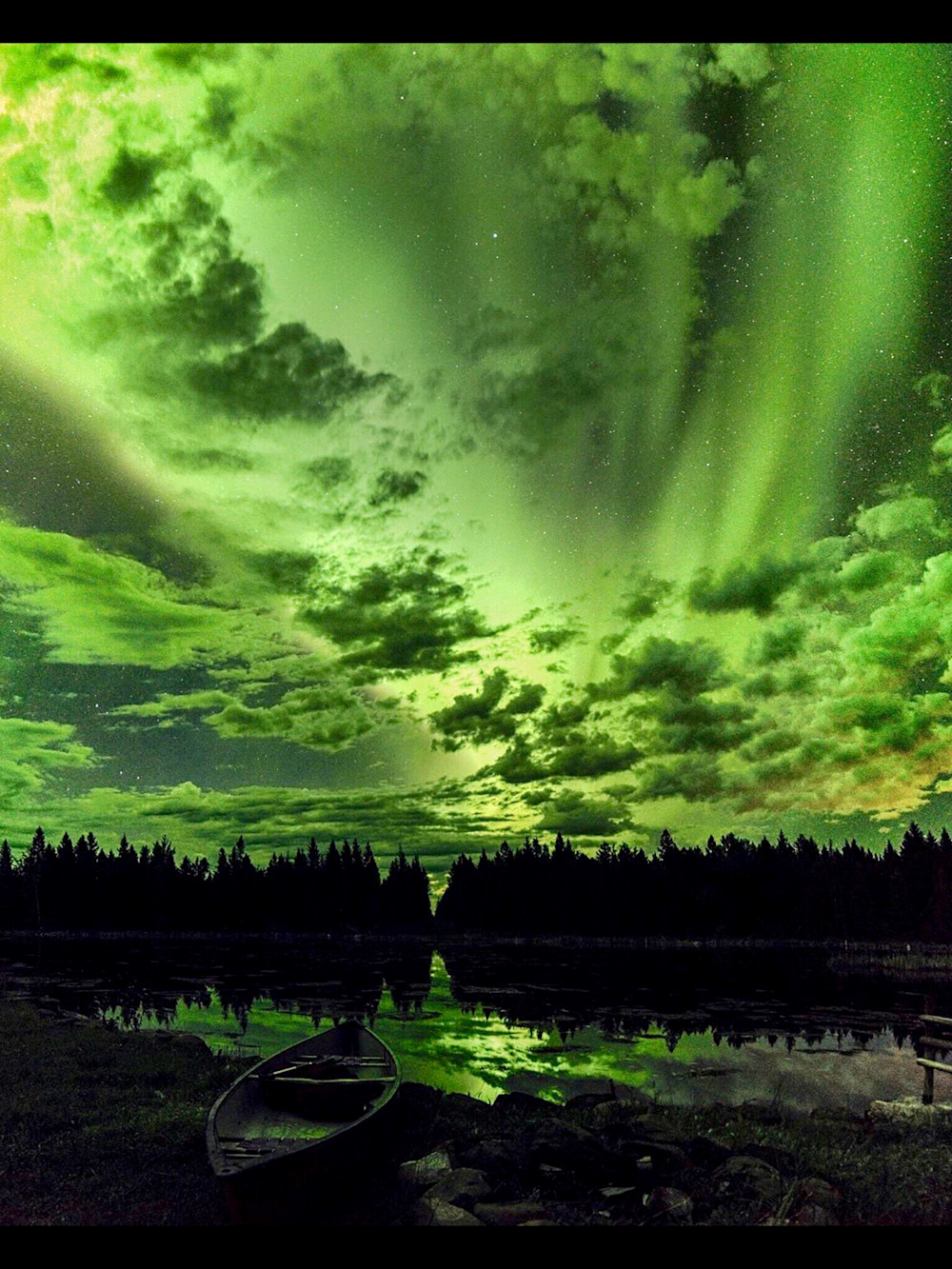 So, for me, Andy's photograph somehow reawakened some cherished childhood memories. For him, perhaps my painting will be a reminder of his own special time in a special place. For others, well, I leave that for you to decide.
I hope you enjoy the artwork and that it speaks to you, too.