Don't Play Small
May 01, 2019
Leslie Chandler
I had a very serendipitous encounter last weekend. My friend forwarded me an ad written by a stranger for two used easels and, since I am looking ahead to one day expanding my studio, I jumped at it.
Then began a series of "out of the blue" moments and ironic coincidences that, one after the other, reminded me so much of home. It was completely unexpected.
(I live in Ottawa, Canada but was raised in Richmond, British Columbia... 4300 kms from where I live now. Since I left there 34 years ago, my idyllic home town has been completely transformed from friendly pastoral countryside to aggressively progressive cityscape. What I remember as a child no longer exists and there is no going back. So, I really do feel a very long way from home.)
I responded to the ad and — out of the blue — the seller ventured to ask me a rather personal question. Apparently, her mother, who had been a very talented artist, had passed away recently and she was left with the heartbreaking task of finding new homes for her personal items, hence the sale of the easels. She wondered if I was perhaps an artist and if by some chance I might have some suggestions to give her an idea of how to tackle such a task.
What were the chances that this might be so similar to my own personal experience?
It was. Twenty years ago, my father, a very talented artist himself, passed away and my brother and I flew home to be with our mother and help her downsize from a large house to a small condo. We had the mother-of-all-garage sales and I recall the sign my brother made above the garage door: "Everything goes! Even the light bulbs! "The response was like a tidal wave (or so it seemed to us) and we had a very successful sale.... At the end of the day the three of us sat exhausted and speechless at Mom's kitchen table, looking at a pile of cash. We were sitting in a very empty house. It wasn't a home anymore. It was bittersweet.
During this garage sale, we sold so many of Dad's art supplies from his home studio. His unsold and unfinished artwork was passed on to family members, and what else he created has been used as a fundraiser in Sri Lanka, is in an aviation museum in the prairies or private collections somewhere in North America. I do wish I had been able to keep more, but since I lived out of the province, that simply wasn't possible. Still, I feel like he left his mark.
On some level, I understood this lady. We continued our correspondence, and she sent me some images of her mother's artwork. I was amazed! They were gorgeous! Her mother had her own personal style and was truly gifted. She also sent a photo of her mother with a beautiful smile, wearing an "Art matters!" t-shirt from the Art Gallery of Ontario and standing in a flower garden backed by stately delphiniums. I wished I'd have met her: she looked like a lovely lady. My husband and I ended up being invited over for tea, to see if the easels were what we were looking for. I felt like we were already developing a friendship even though we had never met.
Sunday afternoon arrived and my husband and I drove about an hour south-west, through the sunny spring countryside. We pulled up to a charming bungalow and were greeted warmly through an open screen door. Our new friend invited us in for tea, pretty local chocolates, fresh fruit and other sweet treats as we chatted for a couple of hours. Her home had a strange and wonderful familiarity to it, and I felt quite at home.
We were told all about the artist with the beautiful smile and shown many of her stunning paintings and sketches. We were even generously given a small print which reminded me so very much of something my own father had done. How kind! In turn, when asked, I offered some suggestions for the task she was bravely facing and we swapped more stories. At one point, she said something very touching. Even though her mother had such talent, she thought that maybe she had played small. Her mother deserved better recognition for her talent and creativity. She looked me in the eye and, with determination told me "Don't play small!"
When it came time to have a look at what was being offered for sale, we both cried together. Yes, I deeply related to this moment and it brought back many memories for me, too.
Happy with our chance encounter and feeling like I had met a new friend, my husband and I prepared to head home. In the emotion of leaving, watching this kind soul with her hand on her mouth, trying to be brave as we drove away with her mother's easels and a few other precious items, it wasn't until we were out of town and heading north-east again that we realized we had forgotten the print we had been given! So, we turned around and went back to pick it up. She smiled again as we drove up.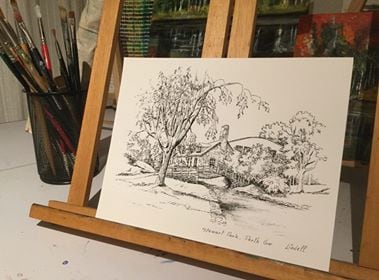 "Stewart Park, Perth, Ontario" by Pierrette Lindell (1932-2018)
This print is so special! I will hang it in my studio, as a reminder that creative souls share something deeper than words, and that none of us should ever play small.